Succulent Plant Site | Aloes of the World | Aloe antandroi
Aloe antandroi
Asphodelaceae -CITES App. II
Distribution: Madagascar.
Description: Aloe antandroi is a small rambling aloe. The leaves are narrow and dark bronze in colour, they are five inches long. The leaf margin has soft small thorns. The plant is 30 cm in height.
Flower: Orange flower.
Cultivation: Light shade to full sun, drought resistant, frost protection is required.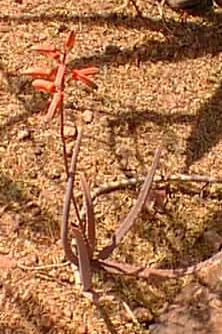 Photographer: Phillipe Faucon of Phoenix Tropical Gardens
Recommended
Aloe, Your Miracle Doctor is an ebook that is filled with information on everything Aloe.
Growing Tips
Medicinal Uses
+ More
Download Now!