Succulent Plant Site | Aloes of the World | Tree Aloes | Aloe pillansii
Aloe pillansii
SL. Guthrie
Asphodelaceae - CITES App. II
Aloe pillansii is named after Neville S. Pillans, a well-known Cape botasnist who first collected Aloe pillansii. Aloe pillansi has been placed on the endangered specie list due to ove-grazing and collecting.
Aloe pillansii South African national tree number is 30.
Distribution: Aloe pillansii occurs from Cornell's Kop in the Richtersveld northwards to Brandberg in Namibia.
Description: The yellowish-grey trunk splits dichotomously into erect branches, that never spread and terminate in large rosettes of thick fleshy greyish-green leaves (600mm in length). The leaves are falcately deflexed and have whitish-cartilaginous edges with cartilaginous teeth.
Flower: Inflorescence is branched and downward facing and flowers are yellow in colour and slightly swollen in the middle.
Cultivation: Aloe pillansii is and easy plant to cultivate. A well drained soil is required, with careful watering. Full sun is required and frost protection in winter is required. (USDA 8 - 10).
Propagation: Seeds and cuttings.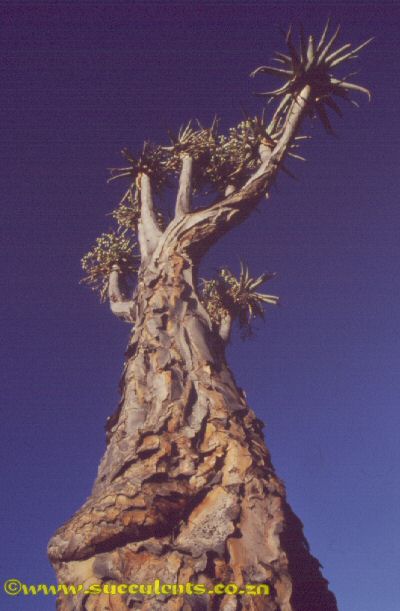 Photographer: Philip Desmett