Succulent Plant Site | Aloes of the World | Tree Aloes
Aloe Plicatilis
(L.) Mill.
Liliacaea - CITES App. II
Destribution: South-Western Cape, Aloe plicatilis can be found growing on rocky-slopes in moutains of the sw Cape. From Franshoek to Elandskloof (well known on the Du Toits Kloof Pass). Occurs in a winter rainfall region (600mm - 1200mm per annum). South African national tree number is 29.6.
Description: Aloe plicatilis grows up to 5 m tall with dichotomous branches and grey stems which end in fans of distichous leaves. The clusters of leaves resemble a fan hence the name. The gey-green leaves are rounded at the apices which are often tinted pink, leaves are 400mm in length and 40mm in width. The leaf-margin is cartilaginous with fine teeth. The leaf sap is clear but crystalize to form a pale yellow solid.
Flower: Simple inflorescence (500 mm) with a cylindric raceme of scarlet flowers. There is up to thirty tubular lowers that are scarlet in colour and 50mm in length. Aloe plicatilis flowers from August to October.
Common names: Fan aloe, Bergaalwyn, Franshoekaalwyn, Tongaalwyn.
Point of interest: The name "plicatilis" means "fan-like" or "pleated".
Cultivation: Aloe plicatilis is relatively easy to grow in cultivation but careful attention must be given to summer waterings.
Propagation: Seeds and cuttings.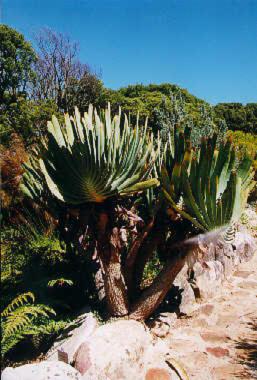 Image Photographed by : Detlef Schnabel of SA Seeds - German Seed Source