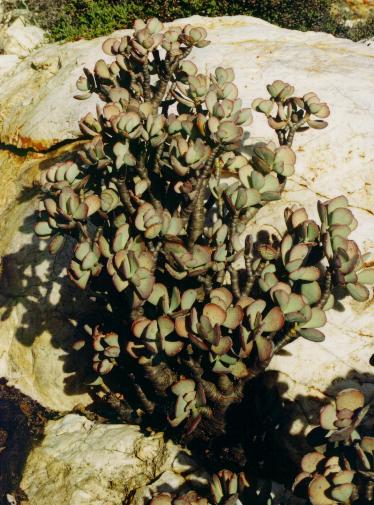 Locality: Nuwerus
Distribution: Found on granite or in quartzite areas, plants grow between boulders or in crevices. The plants are distributed from the Little Karoo to the Hex River Valley. This spp occurs in a winter rainfall area.
Description: The branching shrub can reach 1 - 2 metres in height. The leaves ae ovate in shape, margins usually tinged red, the old leaves are decidious. The succulent stems are up 120 mm in diameter and older specimens have peeling bark.
Flower: The flowers appear in March to July. Grey blooms are borne on a long peduncle.
Propagation: Seeds and cuttings. Sow seeds in autumn. Plants root easily from cuttings, place cuttings in clean river sand, mist every three to four days, roots should appear with 2-3 weeks.
Cultivation: Full sun, protect against frost, water every two weeks from autumn to spring (careful watering required in winter). Plants grow well in a well-drained mineral soil. Feed plants every second or third watering.
Photographer: Etwin Aslander.