Succulent Plant Site | Aloes of the World | Tree Aloes |Aloe barberae
Aloe berberae
The two names Aloe barberae and Aloe bainesii was published simultaneously for the same plant. In a scientific paper that was overlooked the name A. barberae was chosen, it is for this reason that the name was reinstated. Aloe barberae was named after Mary Elizabeth Barber (nee Bowker) who was one of the pioneer plant collectors of South Africa.
The South African national tree number for Aloe berberae is 28.
Distribution: Aloe barberae occurs in dense, tall bush and low forests. Aloe barberae is found in a broad coastal band, that is slightly inland, from East London in the Eastern Cape through KwaZulu-Natal, Swaziland and Mpumalanga into southern and central Mocambique. Aloe barberae occurs in a summer rainfall area of between (750mm - 1550mm). A 2 meter tall Aloe barberae at maturity has been recorded from Mocamibique, this particlur form is not common in cultivation.
Description: Aloe barberae is a solitary much branched aloe that can grow up to 18 m tall, it is South Africas largest tree aloe. Adult aloes have a stout trunk, up to 3m in dimeter, with branches that are dichotomous. The bark of the tree-trunks is geyish-brown and rough to the touch. The branches bear rosettes of deeply channeled, recurved dark green leaves which are sheathed at the base. The leaf margins are cartilaginous with small whitish teeth.
Aloe barberae can easily be distinguished from Aloe dichotoma by the larger and greener deeply channeled leaves.
Aloe barberae is not a threatened specie.
Flower: Inflorescence, 500mm in length, up to 3 branched, the racemes branch low down on the peduncle and are rose-pink in the South and apricot-orange in the north. The inflorescence is seldom longer than the rosettes and are often hidden amongst the leaves.
Aloe barberae is the only tree aloe with orangy pink flowers. Flowers appear swollen and range from salmon-pink to orange in colour.
Aloe barberae flowers in May and June.
Cultivation: Aloe barberae is an easy spp to cultivate. Plants can be grown in almost any soil and climate, although they must be guarded against severe frost and drought. Min temp 4 C (USDA 10 - 11).
Young plants have longer and more widely spaced leaves.
Propagation: Seeds and cuttings.
Common names: Tree Aloe, Mikaalwyn, Boomaalwyn, Zulu name "inKalane enkulu:" which means big one.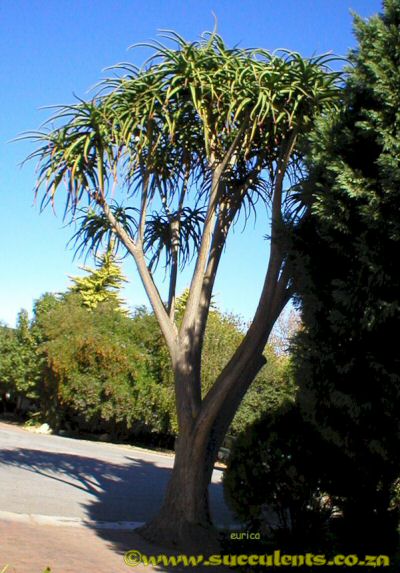 Photographer: Eurica Teichman of Aloe Seed Source